So you want to earn money with affiliate programs but you aren't sure where to start? If yes, then this article is for you.
Here, we will share tips on how to get started with affiliate marketing, and then show you the best affiliate programs for bloggers, and essay writing service providers as well.
When you read on the internet, you might be tempted to think that affiliate marketing is a way of earning bundles of money for doing nothing.
People have put it in a way that it looks simple and easy to do. Although it's an effective way of generating passive income for bloggers, it isn't as easy as people may put it.
It's true, you can make big money, and after all, people are making money full-time with affiliate marketing– Money you earn even while you sleep. But there are things that you must take care of before you can start earning that big money. And that's exactly what we will talk about in this article.
If you are just getting started with affiliate marketing we will show you how to get started. And if you are already generating income with affiliate marketing, the information you will read here will also help you skyrocket your affiliate earnings.
But before we get started, let's define the term.
What Is Affiliate Marketing?
Affiliate marketing is earning money (in commissions) by recommending other people's products you own on your website so that when one clicks them, you get paid.
It is one of the powerful ways blogs and website owners use to make money online.
Here is how it works.
You sign up with an affiliate program (we will talk about the best affiliate programs toward the end of this article), you get affiliate links (these are links of the products you recommend) you can include inside your blog content. When your readers click on the links and purchase a product, you earn a commission.
In simple terms, affiliate marketing is a method of generating passive income by promoting products or services offered by other people. Affiliates earn a commission for each sale.
The affiliate products you can promote on your website include:
Physical products
Services
Informational products (courses, tutorials, etc.)
How to Get Started With Affiliate Marketing
Although affiliate marketing isn't easy, following these simple steps will get you started fast. The trick is to ensure you drive consistent traffic to the merchant's website using your affiliate links.
The good thing is that you don't have to have money to drive traffic to your website. You can attract the website traffic by guest posting, posting on social media, blogging, etc.
You can use paid advertising to drive traffic to your website by placing banner ads on people's websites, paid ads on social media, Google Adwords, etc, although these methods are not ideal for you if you don't have enough budget.
You can start with free traffic and then start using paid ads when you start earning to fasten your business growth.
The good thing is that, once you start with affiliate marketing, the merchants will give you tips on how to get the most out of the program.
That being said, here are the steps on how to get started with affiliate marketing.
Find a profitable niche
According to Lauren Donalds, the author of best essay writing service reviews, the first thing to do before you start on affiliate marketing is to choose a PROFITABLE niche. A niche is simply the subject (or topic) you will be writing content on and it must be something you are knowledgeable about. Choosing a niche will help you have a focus on the content you will be writing. It will also help you choose products or services you can confidently promote. Expert online marketers advise choosing a niche you have interests in.
Choosing a niche is perhaps the hardest step for most beginners in affiliate marketing. However, it doesn't have to hard.
To choose a niche, you need to:
Pick something you are passionate about – Choosing a niche you are familiar with or you are passionate about will make it easier to come up with content ideas
Choose a topic that will allow you to come up with unlimited content – You don't want to suffer a lack of content ideas in the middle of your affiliate marketing journey.
Avoid choosing an oversaturated niche – You cannot compete with the pros on a niche they have been on for a while. If a niche is oversaturated, you are better off giving another one a try.
Is the niche profitable? – Well, you need a niche that can generate income. There are plenty of topics you can write about but not all are profitable. Choose a moneymaker niche.
There are various ways you can tell whether a niche you are choosing is a moneymaker. The affiliate network you choose can help you know which niche is worth putting your time and effort.
Start a website related to your niche
Once you have chosen a moneymaking niche that you are familiar with, you can start a website and blog.
You also need to choose the right blogging platform.
Usually, before joining an affiliate network, you will be required to provide the URL of the website or blog you will use to promote affiliate products or services. Merchants will want to check your website or blog to ascertain that it won't damage their reputation.
Once you have started your website or blog, make sure your policies are clear to avoid confusing your readers.
Add content that attracts people to your site
Now that you have created your website or blog, you need to add quality content. Focus on the money; focus on creating content that is informative, educational, interesting, and entertaining.
It's highly recommended to start by adding great content and building trust with your target audience (in terms of traffic, views, engagement, etc.) before you can start to monetize your site. And this is something some affiliate networks will consider before accepting your request to join them.
The best dissertation writing service providers attract people who want writing services by uploading good content that helps people to solve a problem. You should also do the same on your site.
Check with the affiliate network you want to join before you start promoting products or services.
You don't have to create truckloads of blog posts before you start to monetize your site. Just make sure you have high-quality content. Some affiliate marketers out there started monetizing their site with a few great blog posts.
Grow your subscribers
This should be the first step after creating your website or blog. A study shows that you get a $44 ROI on every dollar you spend on email. Therefore, it's spending some money and effort in growing your email list.
After all, email is still the best communication channel for marketing. To grow your email list, choose the best email marketing service providers that allow you to add popups to respective places that get huge traffic. Check this guide to know how to get started with email marketing.
Join an affiliate marketing network or program
To become an affiliate, you can either choose to promote products of an individual company or join an affiliate network.
We would recommend you to sign up for all since you will have limitless opportunities when it comes to promoting products.
If you join an individual company, you will promote its products or services but if you sign up with an affiliate network, you will promote products from different companies that are listed on the network.
Here, you will follow a simple application process and you will provide your URL to be assessed by the network or company before your application is accepted. Just ensure you provide something of value in terms of the content you create.
Research and the right affiliate products
We started by advising you to choose a niche you are familiar with. That way, you will not have difficulties choosing affiliate products to promote.
Conduct enough research here to find products your audience is looking for and ones that are generating profits for your business.
A good rule of thumb is to choose affiliate products you have used, products that have a need, or products from other people in your niche.
The products should also match with your content- you can't promote automobile products on a blogging niche. Any mismatch between your content and the affiliate products you promote could hurt your business and the company whose products you are promoting.
Continue adding fresh and relevant content to your site
To earn good money with affiliate marketing you must make sure you are keeping people coming back to read your content. To get repeat and unique traffic flowing to your site, ensure you keep your website or blog updated with original and evergreen content. You need to implement an effective content marketing strategy here.
As you continue adding more content, add affiliate links within the content. The more people keep coming to your site the more likely they will click your affiliate links to purchase or learn more about the products you are promoting.
Work on driving more traffic to your site
Social media (Facebook, Twitter, LinkedIn, Pinterest, YouTube, etc.) is a rich source of free traffic. Producing video content is a great way of driving more traffic to your site. For instance, you can use Facebook Live and demonstrate to people how to use particular products or services.
You can also use paid advertising on social media to grow your reach and attract more people to your affiliate site.
Measure your success
This is where you will start gathering information about your entire affiliate marketing process. How your affiliate links are doing, where your traffic is originating from, etc. Once you find products or services that are selling well on your site, you can focus on creating content around them to increase sales. There are plenty of tools you can use to measure your success.
Check posts that are generating more traffic and add more links to them. You could also adjust blog posts that are not getting more visitors.
Get rid of what's not working well and put more effort into what's working best for you.
Here are the top affiliate programs for bloggers:
As we have mentioned above, to get started with affiliate marketing, you must choose an affiliate network or program to start promoting products on your affiliate site.
Here are the most popular ones.
1. Wealthy Affiliate
You can join Wealthy Affiliate for free (no credit card needed) and check out their amazing training. They have a strong community support arena and free website hosting – so, you can "Earn while you Learn." We have evaluated a TON of online affiliate programs and the training for building a website and blogging is by far the best for beginners.
With Wealthy Affiliate, you will learn affiliate marketing from the ground up – not only what affiliate marketing is all about, but also how to choose a niche, drive traffic and more. There are many Wealthy Affiliate members earning a full-time income from blogging. Wealthy Affiliate has been around for over a decade and still going strong.
Click Here to check out our in-depth Wealthy Affiliate Review.
2. Builderall Affiliate Program
The Builderall Affiliate Program has a free trial offer and is an extremely lucrative affiliate program. Realistically, this is a tie for the number 1 slot, but geared a bit more towards those that are already familiar with affiliate marketing.
One of the primary reasons this affiliate program comes in with such high marks is the fact that it is a "two-tier affiliate program". You earn a nice high commission on your immediate sales, but you also earn 30% of anyone they bring onboard. Additionally, there are "uni-level" bonuses.
For example, if you gain 100 active affiliates from your efforts, Builderall will send you a Monthly Bonus check for $500 towards a new car (or you can choose to simply accept the cash). If you hit 200 active affiliates, that doubles to $1,000 monthly on top of your recurring commissions.
While, you will have a recurring expense of $69 per month, the product itself is incredibly powerful and the commissions are outstanding. Builderall has been in business a long time and they aren't going anywhere. We highly recommend Builderall. And, if you join with us, we will provide $1495 worth of outstanding training on how to build traffic to your Builderall Affiliate landing page.
Click Here to check out our Builderall Affiliate Program Review.
3. Power Lead System
The Power Lead System (PLS) is another fantastic affiliate program that has been around for several years and has a strong presence accompanied by a great support community. This system is again, geared more towards those already familiar with affiliate programs and comes with it's own autoreponder and contact manager as well as unlimited landing pages and solid training.
With PLS, you can promote the system itself or any other affiliate product/service that you choose. They have a free trial with an easy monthly payment if you choose to stick with it and earn more passive residual income.
Click Here to check out our Power Lead System Review.
4. Affilorama
Another affiliate program for beginners is Affilorama. They have been around since 2005 and have improved several times over the years. They have a great training platform for newbies and a very small fee to try it out ($1 for 30 days when last we checked).
Then, much like Wealthy Affiliate, you can earn while you learn, by building a website and blogging on their hosting platform and promoting their service or any other affiliate product you choose. You will learn what affiliate marketing is all about and how to drive traffic, both paid or free organic search traffic.
Click Here to check out our Affilorama Review
Here are the top affiliate networks for bloggers:
1. Amazon Associates
Amazon is perhaps the simplest affiliate ecommerce program for beginners. Well, the seasoned affiliate marketers use Amazon associates as well. Signing up on Amazon is also easy although their program offers the lowest commission rates. However, the program offers a wide range of products you can't miss ones that your audience needs.
The good thing about the Amazon affiliate program is that if you send a visitor to their marketplace and she decides to buy another product instead of the one you are recommending, you will still earn a commission for the product they have bought. The bad thing is that their commission percentages are very low. The average is about 4% of each sale and while you can increase this as you gain sales volume, 8% is the highest we're aware of. So, you have to be able to sell large volumes.
2. CJ Affiliate
Also known as Commission Junction, CJ affiliate is a program used by experienced marketers. This program features products from more than three hundred popular brands.
However, to get your application accepted there, you must have a huge amount of traffic. The CJ affiliate program also has strict policies for publishers. Their affiliate commission percentages fluctuate depending on the merchant and product.
The interface might also need sometime before you get used to it.
3. ShareASale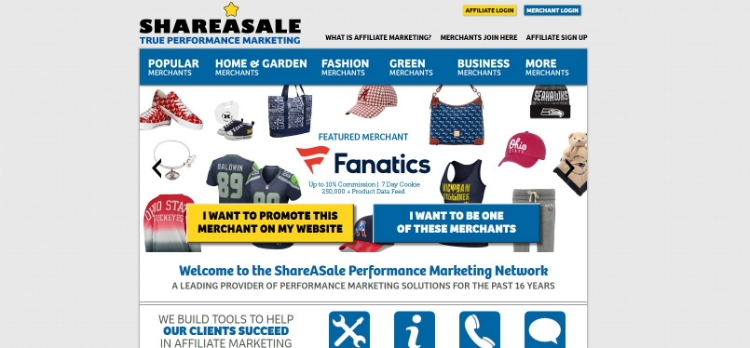 ShareASale is also another popular affiliate network with plenty of merchants to choose from on almost every niche. This affiliate program has attracted many marketers and merchants due to its easy-to-use interface, fast and free sign-up process.
4. ClickBank
Another popular affiliate program with more than 6 million digital products is ClickBank. The program has more than 20 categories currently and is known by many people around the world. Digital products are more preferred by affiliate marketers since they tend to generate a very high commission than physical products. You can expect to earn up to 75% commission on this affiliate program.
5. Rakuten Affiliate Network
Formerly known as LinkShare, Rakuten is another popular affiliate network to make money as a blogger. Every referral you make on the network you earn $25.
Final Thoughts
We hope this post will help you get started with affiliate marketing. There are plenty of ways you can make money as a blogger. These are just a few you can use.
Let us hear the affiliate network or program you use to make money blogging in the comment section.
About the author:
Isabell Gaylord is a gifted writer contributing to essay writing service reviews a lot. As a passionate blogger and journalist, Isabell is fond of writing and a lot of her works are related to self-improvement, technology, marketing, teaching, and learning. Follow Isabell on Twitter.