Affiliate Marketing
The Top 10 Affiliate Programs
Today we are going to look at the top 10 affiliate programs. As you already know, affiliate marketing is one of the largest online industries and has become a key source of online income for many thousands of professional bloggers, webmasters, and entrepreneurs.
For those new to this powerful online merchandising concept, affiliate programs work as intermediaries between the affiliate marketers who will sell products and services and the merchant who provides those products and services as well as the affiliates programs. Merchants work with affiliates to help get their products or services to their consumers.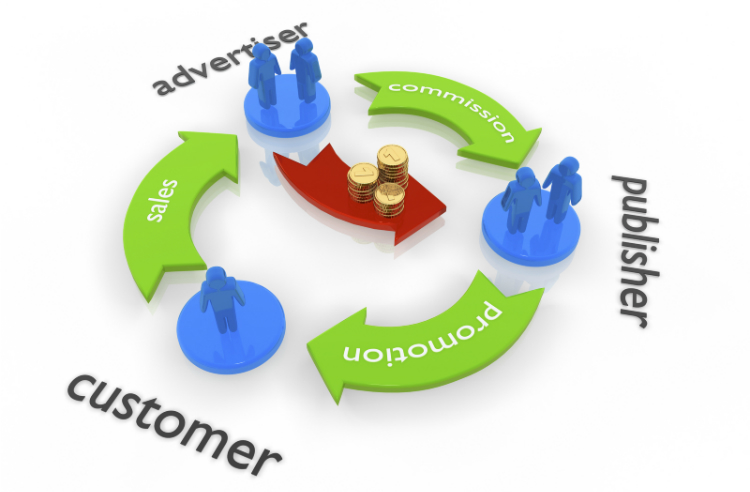 In short, both the affiliate marketer and the merchant will benefit in this program as the merchant will sell more goods and the affiliate marketer will get a commission for every product bought through his/her website. Many affiliate marketers earn a nice monthly income from selling other peoples' products! Later, YOU TOO could be producing your very own products and collaborating with one of the top 10 affiliate programs below to enlist an army of bloggers and website owners to help you become financially free.
But, let's not put the cart in front of the horse here. If you're totally new to affiliate marketing, I highly urge you to visit my number one affiliate marketing program for training as a marketer first.
This is how countless six-figure earners first began before stepping into the big leagues and producing products (or services) on their own and becoming the "merchant".
"US Affiliate Marketing spend will increase to an estimated $6.8 billion industry by the year 2020."
One great thing about this market is that as the affiliate marketers increase, more merchants are becoming onboard meaning that there is an opportunity for everyone. If have a website that gain has lots of traffic, it is the high time to consider affiliate marketing.
As a website or a blog owner, there are more than one ways in which you can benefit from affiliate marketing. Remember, the affiliate marketing program does not require the affiliate marketers to have their own products or services. Thereby, way fewer headaches with shipping and customer service for the affiliates.
You just need to place an advertisement on your sites for other merchants, and you will get a commission of every product bought from your site. Before looking at the Top 10 Affiliate Programs, let's look at important some quick introductory information that'll you need to know about these programs.
Affiliate program business basic payment methods
Generally, the most popular affiliate programs offer three types payments.
Pay-Per-Sale (Cost-Per-Sale)
This is the most popular payment offered by most of the affiliate programs. Under this program, the affiliate marketers earn commissions from the merchant each time they will send a client to the merchant website, and that client makes an actual purchase. Various affiliate programs offer a specific percentage of the sale as commission while others will pay you a fixed rate for every sale.
Pay-Per-Click (Cost-Per-Click)
Pay-Per-Click is also considered as widespread and common affiliate agreement. Under this agreement, the affiliate marketers will get fixed rates depending on the number of clients who click on the links placed on the affiliate website that leads to the merchant website. Here a purchase is not necessary to earn commissions, all that has to be done is that the client clicks the link and stays at least thirty seconds on the merchant website. Regardless of what the visitor does on the merchant site, this will not affect the commission.
Pay-Per-Lead (Cost-Per-Lead)
Here the affiliates are paid depending on of how many visitors are sent to the merchant website and then sign up as leads. For the visitor to sign up as leads, it means that the visitors will fill out the information request form on the merchant site.
Although affiliate programs offer you a very good opportunity to earn money online, choosing the best affiliate program may not be quite so straightforward, especially if you are a beginner. Remember, the affiliate programs are both beneficial to the merchant and the affiliate marketer. It's a win-win situation.
However, just like many other things, there are some affiliate programs that will benefit the merchant and the marketer more than the other. For this reason, we have prepared a list of the Top 10 Affiliate Programs that are not only the most popular but guarantee marketers and merchant mutual satisfaction.
While many affiliate marketers will list affiliate programs such as Amazon Associates, e-Bay, Wal-Mart, Target, etc. We will discuss affiliate programs that can actually make you money. These other big brand names do indeed have affiliate programs, but your earning percentages are horribly low. Many times we are talking about 2-5% per sale. You would have to move huge volumes of products just to make ends meet. Keep this in mind when reviewing our top 10 affiliate programs. These programs make us and many affiliate marketing entrepreneurs a lot of money monthly!
1. Wealthy Affiliate
What's Wealthy Affiliate Program About?
Founded in 2005, Wealthy Affiliate is an online training platform that offers affiliate marketing courses to people. Whether you're a beginner, intermediate, or an expert affiliate marketer, this program is a place for everyone to learn and master how to make money online. It's both a course and a community for people to learn and share knowledge.
Wealthy Affiliate offers both free and paid membership plans. Although there are some benefits to gain on their free membership plan you'll gain way more benefits upgrading to their paid premium membership.
For those experts who have already made successes with affiliate marketing, their reasons for signing up for this program might be different – to vet the system and stuff like that. But for a beginner just starting, you're most likely looking for an opportunity to learn how to build a website, how to blog and make money off of it legitimately, among many others.
So, if you're in the latter group, you're probably going to start with the free membership option and upgrade later when you start to see a prospect in the business. For whichever option you opt for, here is what there's in each for you…
What You Get With The Free Wealthy Affiliate Membership Account?
Like I mentioned earlier, the benefits you gain from being a free member of this program is by no way comparable to those you'll get from its paid premium membership. With the free account, you get only limited access to their dashboard with some other features which may or may not last for long. Here are the benefits that come with the Free Wealthy Affiliate Membership:
Beginner Training Course
2 Websites
2 Training Classrooms
Free Website Backup
Personalized Affiliate Blog
Live Help – only for the first 7 days
Video Tutorials
Affiliate Program
Access to Affiliate Bootcamp Training – only Phase 1 of their
Keyword Research Tool – 30 searches only
1-on-1 Coaching – for the first 7 days
What You Get With The Premium Wealthy Affiliate Membership Account
This option offers unlimited access to the dashboard and other exciting feature. I think you'd rather go for the Wealthy Affiliate Premium Membership if you're serious about making money online.
Here are few of the benefits you stand to benefit from the Wealthy Affiliate Premium membership.
Live video classes
50 websites
Unlimited live help
2 Training Classrooms
Unlimited Private Messaging
Personalized Affiliate Blog
Website Backup
Unrestricted Access to Beginner Training Course
Affiliate Bootcamp Training – All the 7 Phases
Access to Keyword Research Tool with Unlimited searches
Unlimited 1-on-1 Coaching
All-Year-Round Website Support
Pros
Very easy and friendly for new users to get started.
Saves you cost on blog as it already offers you free blog to start with.
Offers high-quality and regularly-updated products
Provides all the tools you'll need in one place. For example, you don't need to buy a domain in one place and hosting in another place.
Offers step-by-step training for new members on how to use all the tools they provide.
Offers excellent and responsive community and live chat sessions.
Cons
Trainings are mainly targeted at the beginners and inter-mediate members.
Non-dedicated hosting platform (shared hosting)
2. Power Lead System
What's Power Lead System About?
Founded in 2013 by the two multi-level marketing experts, Michael Price and Neil Guess, Power Lead System is a business whose product type is in the online marketing. Its main idea is to help people grow their business using the tools and resources they offer, and through marketing techniques. Currently, their membership subscriptions are broken down as follows:
Free Lead System: This is their free subscription plan and it gives customers to the Free Lead System.
Basic Power Lead System Product: Here, you'll get access to Lead Lighting, which means you'll earn $6 for every sale you made. But to join you need to make one-time payment of $7.
Power Lead System Diamond: This is also known as Free Ad Secrets. It goes for $147 to join. How this works is once you sell the product, you retain only $100 and $25 is passed up to the next qualified affiliate.
Power Lead System Master Traffic System: This cost $1,497. When you sell the product you keep $1,000 and pass on $200 to the next qualified affiliate.
Platinum Lead System: This gives customersaccess to their profit academy. To join the Platinum Lead subscription you're required to make a one-time payment of $497. And each time you sign up another customer to this subscription plan, you earn $400. And for very person you recruit sign up you also earn $50.
Gold Lead System: Here you get access to the Power Lead System. What this means is that you'll get access to a lot more resources and tools. However, upgrading to the Gold Lead level cost $30/month. The benefits here include earning a 50% commission on your personally recruited affiliate and $20/month for every member who signs up to Gold using your affiliate link.
Pros:
There's return policy which I believe is great for the affiliates should they have issues with the product.
It's a legit business.
Their different levels of subscriptions meet all budgets.
Cons
It's not beginner-friendly as it's fairly difficult to setup.
Their upper level products and training are outdated.
The marketing system is made to promote only the platform.
Earning big and real money means you need to invest huge amount of money. This can be very expensive for people
3. Affilorama
This Zealand-based company was founded in 2006 by both Mark Ling and Simon Slade. They offer courses and tools for marketers looking for ways to make money online through affiliate marketing.
What's in Their Tools and Training for Members
There are many awesome tools and training offered in this program. Some of these tools and training are free but others are not. Here are some of the Affilorama's tools and training:
Free Training: This consists of over 100 videos, text lessons, and guides for beginners. But the most disheartening thing is that most of these resources are outdated.
Pathway to Passive: Just like the Free Training,the information provided here is also outdated.
AffiloTools: You'll find tools here a bit useful if you're a fan of Clickbank.
AffiloJetpack: This is also one of their products but it's yet to be verified by people.
Others tools are AffiloBlueprint and Affilorama Premium, but these are as of 2020 no longer available.
Pros
They offer 60-day refund policy.
They offer both free and affordable training to their members.
Cons
Outdated training and tools.
Lack of verifiable positive reviews and testimonials for some of their products.
Lack of practical instructions.
4. Aweber
What's Aweber About?
Aweber is email marketing app founded in 1998. It's designed to help online marketers and bloggers build their email lists, send emails and, stay connected with their customers. Breaking it down, here is some of the things you can do with Aweber:
Create email lists
Capture your audience data.
Design newsletters using the Smart Designer feature.
Automate your email marketing using "Autoresponders".
Import and host email list.
Do split-testing.
Build a landing page.
Integrate it with third-party apps.
Aweber Campaigns – a newly-introduced marketing automation that allows certain user actions like opens and clickthroughs. This helps determine the type of user action that can trigger mailouts.
Pros
It's user-friendly.
There's free plan for person in a tight budget.
There lots of ready-made templates
It has relatively excellent customer support services.
They offer very reasonable prices for their plans.
The import functionality is great.
It allows third-party integration.
There is built-in landing page builder.
Cons
Some of the templates appear outdated.
The RSS to email templates are poor.
There is option for A/B testing on the landing page.
5. GetResponse
What's Getresponse All About?
Getresponse is an email marketing software that offers all-in-one services like advanced automations, landing pages, and a CRM. With extremely exciting landing pages and automation functionalities, Getresponse is the app you need to take care of your traffic generation and email marketing campaigns.
Pros
They offer very interesting list automation that allows users to add many conditions for automatic subscribers' list segregation.
Their landing pages and conversion funnel features are extremely exciting.
Cons
Their prices are very competitive.
Poor deliverability rates.
There is no free plan.
6. Constant Contact
What's Constant Contact All About?
This is another major business in the email marketing industry. As a provider of email marketing tool, this company came around since 1995 and has since been adding several features to their platform. Specifically, over the years, they've added exciting features like surveys and social campaigns. These are in addition to their automation, newsletters, and email list building services. However, there has also been a major change – to use their built-in event management tool, you'll now be prompted to integrate with Eventbrite.
Constant Contact is mainly targeted at small businesses starting on a shoestring budget. Their plan starts from around $20/month with only 500 subscribers.
Pros
They have high deliverability rates.
The event management tool can be great for certain businesses.
Cons
Their prices are very expensive when compared to their competitors offering newsletters.
The automation feature is basic and limited when compared to other tools.
7. WPEngine
What's WPEngine All About?
WP Engine offers a WordPress-specific web hosting solutions to help businesses create websites and apps for their businesses on WordPress. If you're looking for inexpensive WordPress managed hosting, this might not be your best pick because WP Engine plans aren't exactly cheap. But if all you care about is performance and concierge service, then you should go for this service. To help you out, here are some of the exciting features in WP Engine for you:
It's easy to migrate from your old host to WP Engine.
They offer free Secure Socket Layers (SSL) Certificate.
There are features for performance tracking and diagnosis.
They provide for setting up staging sites
Free daily backups with easy restore options
Pros
They offer high-quality managed hosting services.
Well-optimized for WordPress.
It makes managing your website quite easy.
Single-Sign-On (SSO) to all your websites
Cons
Their plans might very expensive for a tight budget.
They offer only managed hosting on shared servers.
8. SEMRush
What's SEMRush All About?
For those already familiar with SEO, they know what SEMRush is meant for. But if you're just starting out you might want to ask the question: What's SEMRush all about?
Simply put, SEMRush is the tool for optimizing your website for search engines. With over 5 million users (as claimed by the company), SEMRush started in 2008 as a brainchild of Oleg Shchegolev and Dmitry Melnikov. Some of what you can achieve with this great tool include:
Building links.
Creating new web content that tends to attract traffic to your website.
Improving your site technically for a higher ranking in the search.
Pros
User-friendly interface.
Easy domain analysis.
Excellent link building functionality.
Outstanding competition analysis.
Adequate support channels.
Cons
Provides data for only Google.
Interface are not mobile-friendly.
Allows only one user on their plans.
9. Shopify
Whst's Shopify All About?
If your business is in the ecommerce industry, you most certainly have used one ecommerce solution at one time or another. The question is, are you getting the most out of your ecommerce service provider? If not, now is the right time to make a switch. If you're confused whether or not Shopify will do the trick for you, then I suggest you read through this brief review.
If you don't already know Shopify, it's an ecommerce solution created in 2006. And, since its creation it's become one of the leading ecommerce solutions in the world. Reports show that it has over 800,000 online stores and offices around the globe.
You can get started with as low as $26 for its basic plan. With this, you can sell as many as possible products online but at a 2% transaction fee if you choose not to use Shopify payments. There are also other plans you can explore and they offer more features than the basic plans. Learn more on how to get started with Shopify and their various plans here.
Pros
The designs are excellent and easy to use.
There are guides and documentation to get you started.
You can scale to suit all sizes of business.
There is excellent support team 24 hours.
Cons
For those operating multi-language store, the feature here isn't standard.
There is extra fee for other payment processors other than Shopify payment.
There is difficulty when creating regular content on the platform.
10. ShareASale
ShareASale is another larger affiliate network that has more than 4000 merchants listed where a thousand of them are exclusive to ShareAsale. One of the features that may make you fall in love with this program is the ease of use. As a beginner either a seller or an affiliate marketer, this site is extremely easy to use. Additionally, the platform offers various features such as Average Commission, Reversal Rates, Average Sale Amount, and Earnings per Click. With these payments, it is possible for you to access a campaign and let you know where to put more efforts on.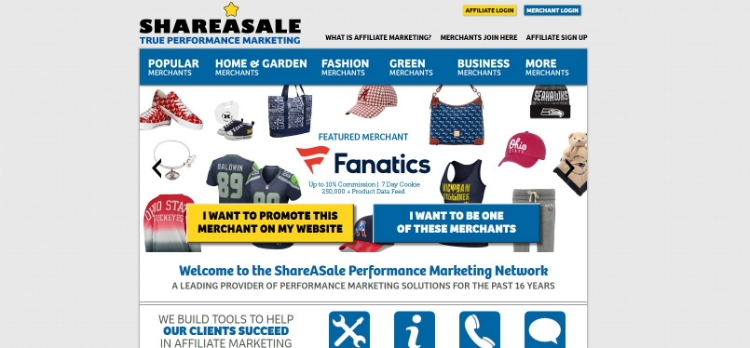 Pros
It is easy to compare offers
You can easily compare offers offered and decide to take the one that promises a better income
Large partner network
The site has over four thousand merchants and has more than a thousand exclusives. This means that the products offered will be sufficient for your clients.
Quick payment cycle
Unlike other companies where you will have to wait for 60 days or more to receive your check, this system will pay you on the 20th of every month.
Cons
Old reporting tools
The company still uses the old reporting methods such as reporting dashboards that are hard to navigate.
Top 10 Affiliate Programs Summary
Although each of the affiliate programs has its own advantages and setbacks, the best way to find the best network for you is to try several of them simultaneously. Remember there are even people who are pursuing multiple affiliates programs to maximize their gains.
Again, if you are absolutely new to affiliate marketing and wish to learn the ropes of earning money online, I highly recommend the bootcamp training here: Wealthy Affiliate Review
All in all, our list of the top 10 affiliate programs will give you all the data you require to know about all the networks for you to make a more informed decision. Good luck!