Here is your source for the best affiliate marketing programs available online in 2023. Learn the biggest payouts, how to get started and how to create long-term recurring passive income without the worry of inventory or delivery.
$17 Billion Dollars will be spent in Affiliate Marketing in 2023
What is Affiliate Marketing?
Affiliate marketing is a performance-based marketing model in which an affiliate (me or you) promotes a product or service of a business and earns a generally nice commission for every successful sale or lead generated through their promotional efforts.  You become the conduit between a company selling products or services and the customer. 
Affiliate marketing has become a popular way for businesses to reach new customers and for individuals to earn passive income online. Here, we take a look at the best affiliate marketing programs, how to build an affiliate marketing website and various marketing methods used by successful affiliate marketers.
One of the key features of affiliate marketing is that it is a low-risk model for both the business and the affiliate. The business only pays the affiliate when a sale or lead is generated, which means that they do not have to invest in marketing efforts that may not yield results. The affiliate, on the other hand, does not have to invest any money upfront in creating a product or service, as they are promoting someone else's product or service.
Another feature of affiliate marketing is that it allows businesses to reach a wider audience. Affiliates can promote products or services to their followers on social media, email marketing, or through their own affiliate marketing websites. This means that businesses can tap into new audiences that they may not have been able to reach through their own marketing efforts.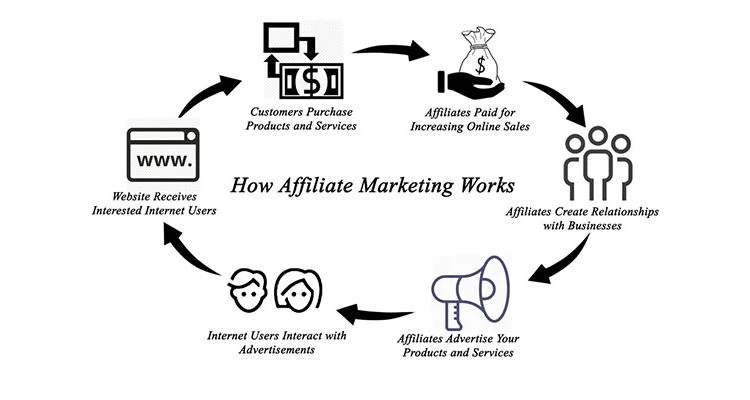 How to Get Started with Affiliate Marketing
Getting started with affiliate marketing is relatively easy. Anyone can become an affiliate by signing up to an affiliate program. Most businesses that offer affiliate programs will have a sign-up form on their website. Once an affiliate has signed up, they will be provided with a unique link or code that they can use to promote the product or service. The affiliate can then use this link or code in their promotional efforts, such as on their website, social media profiles, or in email newsletters.
To be successful in affiliate marketing, it is important to choose the right products or services to promote. Affiliates should choose products or services that are relevant to their audience and that they genuinely believe in. Customers want to read reviews and get the inside information.  We provide that. Getting started in affiliate marketing is much easier than you think.  It's not a get-rich quick scheme and does require some education, discipline and work.
Does Affiliate Marketing really pay?
YES, affiliate marketing can pay huge income online when done correctly. I have made thousands online and began working affiliate programs part time.  Many affiliate marketers earn enough to quick their day jobs.  Again, it take dedication and optimization, but can be well worth it in the end.
What are the 3 main types of affiliates?
The three main types of affiliates are:
Content affiliates – These affiliates create content such as blog posts, articles, and videos that promote a product or service. They use their content to attract visitors to their website, and then promote the product or service through their affiliate links.
Coupon affiliates – These affiliates focus on providing coupons or deals to their audience. They may create a website or social media profile that shares coupon codes or special offers for a particular product or service.
Loyalty affiliates – These affiliates focus on building a loyal audience that regularly purchases a particular product or service. They may use email marketing or social media to promote the product or service to their audience and offer incentives such as cashback or rewards for making a purchase through their affiliate link.
What is the highest paying affiliate program?
The highest paying affiliate marketing program can differ by industry.  Amazon, eBay and Clickbank offer varying percentages to affiliate, but what you sell by volume can be drastically different. With Amazon, their percentages are very low and you would need to move a lot of volume. It's not impossible, but the competition (and automation tools) can be daunting. Creating a niche affiliate website can narrow your focus, but also allow you to sell higher ticket items and create larger affiliate income.
How much can a beginner affiliate make?
A beginner affiliate can make anywhere from $10-1000 per month depending on marketing strategy and competition. Affiliate marketing strategies vary depending on the vehicles used to promote your affiliate links. Social media marketing, Email Marketing and Content Marketing are just a few examples.  Building an affiliate website for a specific niche is another common and highly successful affiliate marketing strategy.
How to start affiliate marketing with no money?
Anyone can sign up as an affiliate, obtain their unique affiliate links for the products (or services) and begin selling right away.  If you don't have a budget, you can create YouTube videos or post on social media and simply include your affiliate link in the description.  When a visitor (customer) clicks the affiliate link, the sale is attributed to your efforts and you get paid.  As you can see, with social media, you might have to post a lot to make sales.  With YouTube or your own website, you can create passive recurring income.  Also, with my Number 1 Affiliate Program you can learn as you earn for free.
How long does it take to learn affiliate marketing?
It doesn't take long at all to learn the basics of affiliate marketing. But, when you combine the elements that can help boost affiliate marketing sales such as Email Marketing, Social Media Marketing, SEO and Content Marketing, it can take a bit longer. The fastest way to get started is the Affiliate Bootcamp that is free to join in Wealthy Affiliate. Just click the image above and get started today.
How much does Amazon affiliate pay?
Depending on your website and digital marketing efforts, you can earn anywhere from $100 to $20,000 monthly as an Amazon affiliate. That being said, starting out, you'll only earn 1-4% of each sale. The Amazon affiliate program is highly competitive. You can read more about this other affiliate marketing programs here: Top 10 Affiliate Marketing Programs