When entrepreneurs think of marketing on social media, they most likely think of using it to get noticed. But since 71% of people who have a good experience with a brand on social media recommend it to others, it's clear that social media is more important than we realized.
More so than just a way to get noticed initially, social media marketing is a way to boost your sales engine and ensure that you always have fresh clients coming in. Not to mention, it's the best way to sculpt your brand and get the recognition your business deserves.
Discover how to use LinkedIn, TikTok, Snapchat, and Instagram to enhance your company's marketing strategy.
1. Marketing with LinkedIn
Known mostly as a social site for professionals, LinkedIn offers a lot of advantages for those looking to find a job or discuss business topics. In addition to following articles by Richard Branson and keeping up with your coworkers, LinkedIn has massive marketing potential, and it's overlooked by most entrepreneurs.
The Perfect Demographic
One of the challenges with other forms of social media is getting past the selfie-queens and political nuts to reach the people who truly need your business.
That's much easier on LinkedIn. Since each person has only one photo and the information on their profile is highly professional, the demographic is largely comprised of serious business people. This means your posts are far more likely to reach other professionals rather than the many people who may be outside of your target market.
Building a Business Page is Surprisingly Easy
The first step to marketing your business on LinkedIn is to create a page for it. To do this, you simply log into your personal LinkedIn account and select "Work" from the top-right. From there, choose the bottom option to create a business page — it's entirely free and a major step towards taking advantage of the marketing potential that the site has to offer.
Example: Creating a Page for High Point Dentistry
Following the steps above will lead you to a page similar to the one pictured below. This is the preliminary version of a page created for Dr. Vu Kong in Elgin, IL. LinkedIn makes it extremely simple to complete your business page by showing you the percent of completion, as well as providing easy links to add additional parts to your business profile.
After adding a description, specific location info, and some essential photos, you'll be ready to begin using some of their marketing tools.

Notice how LinkedIn takes the guesswork out of creating a business page.
You've Created a Page – What's Next?
Now that your business is represented on LinkedIn and you've filled out the essential categories, you'll be ready to start your marketing efforts. Try some of these tips to use LinkedIn to enhance your brand and reach the people you want to attract.
Optimize All the Categories
Much like how you wouldn't leave your office or entryway unfinished, it's a good idea to fully complete your business profile on LinkedIn. This not only provides more information that customers may need, but it also shows that if you're thorough here, you're probably thorough in other aspects of your business.
Publish New Content to Your Business Profile
Another advantage of LinkedIn is that it's easy for individuals or companies to write articles and post content. This content is excellent for sharing with your followers, but that's not all — it also becomes part of your profile, which is great for inbound marketing.
Share Content from Other Platforms on LinkedIn
Already have a strong Facebook marketing strategy or making weekly videos on YouTube? Don't hesitate to add these to LinkedIn as well! Remember that LinkedIn is mostly business professionals, so you could be reaching vendors, potential employees, and even new clients with your posts.
Start a LinkedIn Ad Campaign
In addition to beefing up your business profile with engaging content, you can also pay to run ads on LinkedIn, similar to Facebook or Adwords. While the options vary, there are a variety of useful marketing solutions that might be perfect for reaching the people you need at your company.
This chart shows ad options offered by LinkedIn
2. Using TikTok for Marketing
If you haven't heard of TikTok, you should know that it's a video creating app that has reached a level of popularity that can't be ignored. Already boasting over 500 million followers, TikTok is bigger than both Twitter and Pinterest. For marketers and entrepreneurs, learning to use this Chinese social network can open the door to demographics you might not reach otherwise.
TikTok is for Reaching a Younger Demographic
While TikTok has a surprising number of users, they're mostly comprised of the 16-24 demographic. That means that before using your resources to do marketing on TikTok, it's important that you know your target market and that your target market is young.
For example, If you're a dentist looking for dental implant candidates, TikTok is not the ideal option for you — but if you're a trendy drink company, it may be your best marketing platform. Read on to learn how to reach this highly-coveted young demographic using TikTok.
Two Primary Paths for Marketing on TikTok
If you do need to reach that 16-24 demographic, there are two main ways to make it happen on TikTok. Those strategies are creating original content and influencer marketing, and each can be highly effective.
While you won't find automatic ads like you will on other platforms, entrepreneurs with enough creativity will find it to be a valuable source, brimming with marketing potential.
Creating Original Content on TikTok
This strategy involves an above average level of creativity and being in touch with what's funny and what can potentially go viral. TikTok enables users to create short videos that feature music, so the goal is to create content that is worth watching and also promotes your brand.
This can be a funny video showing a pain point that faces your customers, or an entertaining way to display how your product is used. Maybe it's a purely comedic video that makes your brand look more fun and human while engaging with potential clients. Whatever you try on TikTok, know that not everyone will succeed — but when you do, the results are likely to be huge.
Influencer Marketing Using TikTok
By its very nature, TikTok is the perfect platform for influencers. The app is full of people making things, giving tutorials, and building their followers by doing the things they love.
If you're able to find an influencer that reaches numerous followers, reach out to them to see if they're open to partnering with you. They can use your product or service in their videos, virtually guaranteeing that their millions of followers will see it. These followers are more likely to try what you're selling if their favorite influencer is using and recommending it, so this can be an extremely powerful marketing platform for the right type of business.
3. Tips for Marketing with Snapchat
With more than 210 million daily active users, Snapchat is a growing marketing channel that allows you to engage with your customers in real-time. It's different from other leading social media platforms, making for a new and interesting way to build your business. Learning how to use Snapchat is effective toward reaching a new audience, connecting with your followers, and showing the personality of your brand.
Reach a New Demographic
It's difficult to appeal to a younger demographic when you haven't connected with them on other social media platforms. With the right strategy, Snapchat can be your golden ticket to reaching a market of Generation Z customers.
Over 70% of Gen Z use Snapchat more than six times a day–making it an integral part of their daily routine. This means your content is far more likely to be seen rather than get lost in competing social media posts. Plus, Snapchat is starting to hit older generations, which extends your market reach and encourages greater sales.
Use Snapchat to Create Brand Awareness
To have a successful business, establishing your brand is important–and it's even more important to market your brand properly and effectively. Try these useful tips to capitalize on your brand's image and increase consumer-brand engagement.
Add Content to Your Story Periodically
Posting on a daily basis will dial your followers in to your brand. But make sure not to go overboard when adding content to your story, because people are more likely to skip over your posts if they're too long and frequent. To keep engagement high, update your story about three times a day, every few hours.
Promote Your Account on Other Platforms
Followers are fundamental for your Snapchat strategy to be successful. Focus on users following your business on other platforms — try to promote your account on your website or tell your email subscribers to follow you. The more platforms you promote it on, the more likely you are to gain followers.
Build Anticipation and Create Urgency
Use short but frequent snaps to build anticipation for an event or new product. This brings on excitement, which your business can easily capitalize on. To motivate your followers, create content that takes advantage of our instinctive urgency to take action. Offer exclusive content or announce flash sales to get more impressions.
Feature Relevant, Authentic Content
Rather than posting robotic content to promote your products, show what your business stands for or any social issues it supports. This shows the personality of your brand in a new way while also staying relevant to current topics. This strategy generates an increase in brand advocates, or people that are passionately and genuinely committed to your brand–bringing awareness and loyalty to your business.
Remember to approach this strategy with caution and a goal in mind. It's best to stay away from topics likely to evoke controversy such as race, religion, and politics.
Drive Sales with Discounts and Promotions
What is the leading incentive for people to shop? Well, two things–deals and markdowns. With the right approach, entrepreneurs can reap the benefits of a customer's appreciation for a good sale.
To carry out this strategy, share promotional codes and offer special discounts via Snapchat to your followers. It's motivation for engagement while simultaneously increasing your business' sales and conversions. Plus coupon codes are completely trackable, so you'll be able to see how many customers are using it.
4. How to Include Instagram in Your Marketing Plan
If you're not already using Instagram, you should create an account the second you finish reading this guide. Instagram connects millions of users across the globe, and now businesses are using it to interact with their customers. From increasing engagement to building relationships, Instagram provides a wide range of benefits for marketers and entrepreneurs.
Instagram Targets a Broad Demographic
More than one billion users are active on Instagram each month. The reach this social media platform has is absolutely mind-boggling. Passing on a "like" has become a universal sign of appeal and approval–one that entrepreneurs should pursue to promote their brand and create a successful business.
Having an Instagram is one of the fastest ways to connect with demographics of all ages. From young teens to new grandparents, businesses have the tools to reach and appeal to an expansive market. Instagram also provides a platform to build relationships with other influential accounts. Even health specialists like Dr. Kellye Rice has a business account to market her dental practice. There's no doubt that this strategy will boost your brand's performance.
First: Switch to a Business Profile
To market your business on Instagram, the first step is switching your account to a business profile or professional account.
Log into your personal Instagram account and click on your profile icon, found on the bottom-right. Then click on the icon located at the top-right, select "Settings" at the top, and click on "Account" on the following page. From there, you'll see an option to switch to a professional account at the bottom.
Instagram will prompt you to connect to a Facebook business page, but you're given the option to skip this step. You'll then be asked to select a category for your profile to help your audience understand what your business is about. Then, the last step is to fill out your business' contact details to display on your Instagram. Making the switch is quick and easy–providing you with access to Instagram analytics and additional features that'll only benefit your business.
Instagram presents seven business categories to choose from.
Take Advantage of Free Instagram Tools
Switching to a professional account opens a new window of opportunity. Different from a personal account, a business profile gives you access to a variety of features such as Instagram Insights, Instagram Ads, and contact information. Did I mention they're free?
Instagram Insights allows you to view the impressions and engagement data of your content, and provides a breakdown of your followers' demographics. This includes their age, gender, location, and the hours they're most active on Instagram. If that's not specific enough, you can get specific insights on content posted during a certain time frame.
This is a powerful marketing tool to understand your target audience on a deeper level. It will allow you to recognize what your customers are interested in and how they interact with your posts. With that, you can make suitable adjustments to your content to increase engagement.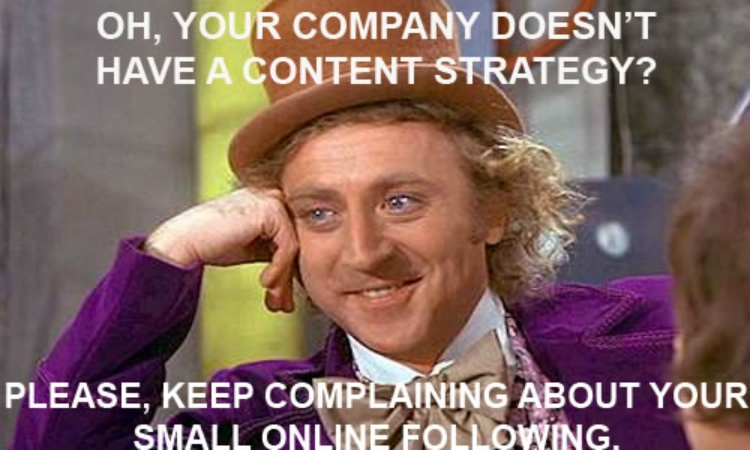 The Power of Meme Marketing
A great way to persuade your target market is to appeal to their emotions. Meme marketing has become a comical way to reach out and connect with your audience. If you don't know what a meme is, it's a photo, video, or phrase that makes fun of cultural symbols or social ideas. When a meme goes viral, it's shared and viewed by thousands of people on social media.
Leveraging this strategy as an entrepreneur can optimize your brand's image and relevance within your market. The hardest part? Finding a creative way to incorporate your brand with a trending meme while staying relative to your brand's image. Here's a few tips to keep in mind when creating a successful meme.
It's not an ad–Memes should be clever or funny, without promoting your brand. Create a meme that's fitting for the whole family to encourage optimal engagement.
Make it relatable–I'll say it again, the only way a meme will be successful is if your audience finds it relatable. Find a way to interest a wide-ranging target market.
Don't waste time–When memes are trending, they're relevant one day and forgotten the next. Stay up-to-date on what's happening and post content ASAP to stay fresh.
When in doubt, look to creating a business account on various social media platforms to boost your company's marketing strategy. Social media has proven to be an incredibly powerful tool to build brand awareness, connect with your customers, and above all, increase financial return.
About the Authors
Nick Napier: After serving 7-years in the Navy and traveling to 22 countries, Nick settled in San Diego where he earned his MBA. He currently works as an SEO Specialist while hosting the Rogue Writers Podcast and writing a wide variety of content on a daily basis
.
Julia Muskevich is a local writer and member of the Rogue Writers Podcast. When she's not juggling multiple jobs, Julia loves to enjoy the beautiful surroundings and action-packed endeavors San Diego has to offer. Her interests include fitness, music, and traveling.