The blogging industry is growing as more people are turning to the internet for relevant information. If your blog is your job and you want to increase your income, consider becoming an affiliate. Team up with brands, promote their products and earn some extra money.
Affiliate programs are quite popular in the blogging world. They open up another source of income without any risk. Use your writing talent and your blogging influence to seize this opportunity. As there are many different affiliate programs, this list of the best ones will help you narrow down the choice. But first, let's ensure that you completely understand the notion of affiliate marketing.
What is Affiliate Marketing?
Affiliate marketing is when a brand teams up with an influential individual (affiliate) in order to promote and sell their products. Bloggers or affiliates use their blogs to introduce the product to readers and encourage them to purchase it.
Within the blog post, you need to add an affiliate link that takes users to the product purchasing page. When a reader clicks on that link and makes a purchase, you get a certain percentage.
The blog content you write needs to be geared towards that product. That is, it needs to motivate the users to buy it. However, the post shouldn't look like an ad because that can chase the readers away.
Affiliate marketing demands skill and creativity from bloggers.
To become a part of an affiliate program you need to apply. After you get accepted, the company will tell you what you need to promote (a product or their website) and how much you'll gain.
Now, let's get to the affiliate programs that you should check out.
This affiliate program has become very reputable thanks to its list of well-known partners. You must know some of them like Macey's, Sephora, Shoe Carnival, Lyft, Lord and Taylor, and InterContinental Hotel Group. With more than 1,200 advertisers and over 500 premium advertisers, you can find someone who will naturally fit into your blog content.
The payments are made monthly until you reach more than $5,000 in revenue a month. Then you can receive your payments weekly.
With the well-organized dashboard, you won't have any trouble browsing through their websites. Their professional affiliate managers can help you out with any inquiries.
In the application process, you'll be asked to provide the following information:
Information about your account
Information about your company/website
Your traffic sources
They will review your application and let you know about their decision. You should get the response within one business day.
Amazon Associates is Amazon's affiliate program. They welcome both new and experienced bloggers. Amazon sells more than 12 million products and its net sale in 2019 was 280.5 billion dollars. With such an array of items and consistent purchases, you have nothing to worry about.
Amazon's affiliate program is one of the most popular ones among bloggers. It's easy to join and when you get approved you can earn up to 10% in commission.
Find products that will benefit your readers and start with linking. If you add more costly items you can earn more. However, make sure that they are something your users will want to purchase.
What you'll certainly like about Amazon is that it credits you even if the user purchases the product that you send them to. A user that was redirected from your blog and bought any item on Amazon that day will bring you a commission.
Considering that Amazon is a well-known website, your readers will feel more trusting about making a purchase. You include the referral link in book reviews, the best products topics, and similar.
Awin Global Affiliate Marketing Network is perfect for any type of blog as it has various affiliate programs. No matter what niche you are in, you'll probably find a brand whose products suit you.
They work with over 30,000 companies and they are partnered with some impressive brands like TripAdvisor, Etsy, Disney Movie Club, Asos, Marks and Spencer, Tech Radar, and so on.
One of the best aspects of this platform is that it is user-friendly. You can manage your campaigns easily with their intuitive interface. If you ever come across any problem, Awin's customer support will solve it in no time.
When you join the program, an affiliate representative will contact you. Once you start sending them traffic and establish a relationship with them, you can get other deals that aren't available at first.
Payment-wise, you won't have to wait for a week to get paid. Their paying schedule is punctual and consistent.
Awin can provide you with professional and successful collaboration. As an award-winning company, they know how to provide the best experience for an affiliate.
If you are always on the lookout for discounted books and courses and you want to share that information with your readers, head to Ultimate Bundles. They have highly discounted bundles you can promote and earn a commission. The discounts can reach 95% off so there are truly some amazing deals.
Ultimate Bundles wants genuine promotion because it leads to high-quality content. That is why you should only promote the services you like. You can find detailed information about each product or course. Get familiar with it and decide whether that's something your audience will be interested in.
Bloggers with long mailing lists will find an extra advantage in this program. Ultimate Bundles allows you to send emails to your subscribers when offer change. Not only will you have a chance to keep the users updated but you'll be able to earn a commission when the item is purchased.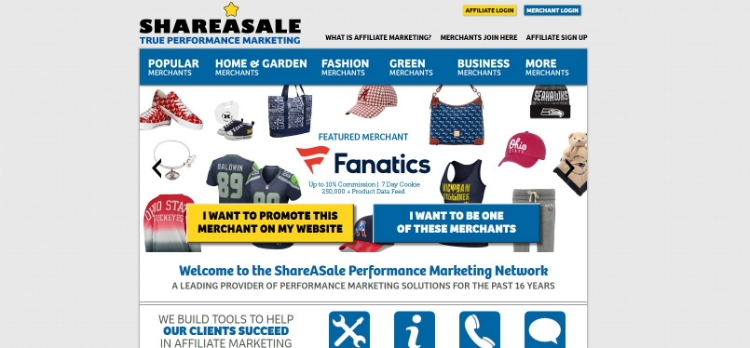 Here's something for new bloggers. Shareasale has been in business for two decades but they are open to newbies in the blogger world. You don't have to be an established blogger to get into their affiliate program. What you do need is good content.
Without rigorous requirements for approval, you can quickly get in and start making money. Their open acceptance of new bloggers comes from an ambition to develop their business through an affiliate network.
Shareasale has both niche-focused business and larger brands. The smaller businesses require an individual application. With more than 2,500 affiliate programs to choose from, you shouldn't have a hard time finding the one that you like.
After you complete the 5-step signup process, you will get a referral link that you need to add to your blog content. The payment is one a month and it goes through bank transfer. The options for making money are:
Pay-per-click (you earn a commission when users click on the link)
Pay-for-lead (you earn a commission when users add their information on the company's page where your link has redirected them)
Pay-per-sale (you earn a commission when users purchase a product through the blog)
This program can be the perfect fit for travel bloggers. Even if you are a personal blogger who likes to share experiences from your trips, you can join the Travel Payouts affiliate program. Writing blog posts that include travel details such as flights, accommodations, activities, and tours can now provide you with some additional money flow.
Travel Payouts works with various advertisers such as Trip.com, Airbnb, Booking, Trainline, and similar. When you write travel-related content direct links to their partners. Adding the links shouldn't be difficult considering the wide range of advertisers. If you already use some of the travel platforms, this will be even easier.
Many travel bloggers suggest Travel Payouts as the perfect affiliate program. "I used to run my own travel blog and in my opinion, Travel Payouts is the best for bloggers who write about traveling. Since I was already using platforms like Booking and Trainline, I was able to honestly write about my trips and earn money along the way," shared Hannah Simmons, the head of the content department at Studyker.
The signup is instant so once you are in just browse through the offers and pick the ones you want to include. When you find the ones you like simply apply for them. You will have to add information about your website so that companies can check it out.
Partnering with Impact Radius can connect you with some of the top brands. Are you a regular at Target? Do you love Adidas clothes and shoes? You can find these brands and many more on Impact Radius. Now your blog can feature some of the best brands.
Their platform has a simple design and it is very straightforward. Navigate through their website with ease and find partners you like.
Daniel Willis, a blogger and content editor at WriteScout and Subjecto talked about his collaboration with this Impact, "I have been a part of Impact Radius program for some time and it's one of my favorite ones. I can link to brands where I usually make purchases and therefore, make honest recommendations. The payments are regular so I never have to worry about that. All in all, it has been a rewarding experience for me."
Regularly including links in your posts will automatically turn into affiliate linking. With persistence and great content, you can be earning money in no time.
CJ Affiliate is one of the biggest affiliates programs. Bloggers can find some of the biggest brands on this platform. Those you must know are GoPro, Barnes and Noble, J. Crew. Office Depot, and Lowe's. They exist since 1998. The experience they have will ensure that everything goes through smoothly.
If you want to secure a good program CJ Affiliates should be your choice. They are experts at affiliate marketing and can connect you with lots of great brands. The program is very selective and you get to choose the exact product you want to promote.
You can apply if you are a new blogger but you should know that if you don't show results within 6 months you can get deactivated.
Bloggers who have over 10,000 page views a month and produce high-quality content can apply for CJ Affiliate's Content Certified program. Becoming a Content Certified publisher means that you will be connected with more than 600 best of the best brands. Another perk is that you'll get pre-approved access to brands at premium rates.
Maybe you have heard about Ebates, well, Rakuten is new and improved Ebates. Ebates joined Rakuten and the new partnership made this platform even more powerful. They work with over 2,500 stores you must find a few that could be just right for your niche.
Just consider that they have been voted the number one Affiliate Marketing Network for nine years in a row. There were up against almost 400 networks but brands, publishers, and advertisers put Rakuten in the first place.
The minimum requirements are:
Active and high-quality website or blog
Lots of original, valuable, and high-quality content
A well-designed business plan that showcases your affiliate marketing efforts
Rakuten is an international company that operates in more than 200 countries. The payments can be received in 25 different currencies. Therefore, if you aren't located in the US this can be very convenient for you.
Creative Market is an online marketplace for digital design products. They feature WordPress themes, fonts, vector graphics, and add-ons. Bloggers who are writing about web design or similar topics might not find the right affiliate partners in the rest of the affiliate programs. That is why you need to know about the Creative Market's affiliate program.
When you bring in new customers, you'll get 10% of every purchase. That's not even the best part. What makes Creative Market the perfect affiliate partner is that the commission will apply to the referred customer purchases for an entire year. That is, the customer you introduce to Creative Market will consistently bring you income without any effort on your part.
If you become an affiliate partner you'll get some additional benefits. Creative Market will allow you to download 6 free products every week.
Final Thoughts
This leads us to the end of the list. Among these top ten choices, there should be something for every blogger. All you need to do is to assure your content is high-quality and that you make relevant recommendations to users. While earning income from affiliate marketing is amazing, you don't want to lose customers because of irrelevant ad-like posts. Keep up with the good work, provide value to readers, and let affiliate marketing bring you some well-deserved money.