One of the great things about being an affiliate marketer is that it is a job that you can do virtually anywhere, such as at the local coffee shop, the library or the beach. If you need an office and you can't or don't have a workspace available to you at home, you may consider looking into shared or coworking office space.
You may even consider setting up an office in a spare room or a small niche in your home. Here are a few things you should know about your workspace as an affiliate marketer before you get started.
You Can Work Just About Anywhere
As an affiliate marketer just starting out, chances are very good that you'll be working alone. This gives you the ultimate flexibility. You can work anywhere you want, like on your back deck, in your bed, the park, the beach or sitting on your front steps. All you need is your computer and an internet connection. Although, eventually, you may need a telephone, when you're just starting out almost all of your efforts will be done online. All you need is an internet connection and a laptop to get going.
What if You Need an Office?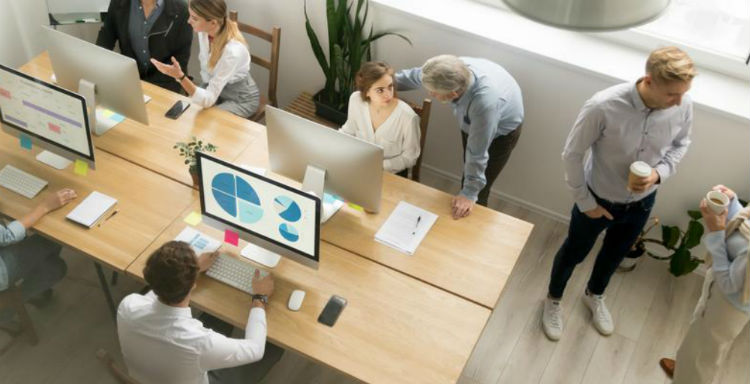 If you don't see yourself working in non-traditional office space, there are affordable options available to you. You could also use a shared or coworking office space to meet your needs as you go. This type of setup is ideal for entrepreneurs just starting out. It is also ideal for those who only meet occasionally with clients and do not need their own private office every day.
What you should look for is the type of space that you can use as needed. These types of arrangements typically also include the use of a conference room when needed, and some even offer clerical or administrative support on an as-needed basis.
Working From Home
If you have the means and the space in your home, another option is to create your own home office so you can work from home. This can be a great option if you like to have your own personal space that you have complete control over.
With this option, you'll be able to completely customize your space to fit your storage and working environment needs. This can also be an ideal option for those people who want to be working at home while they stay at home with a young child if you want to save money on daycare. You'll also be able to have a more flexible schedule if you work from home, as you are not confined by any office building hours.
As an affiliate marketer, you clearly have lots of options for your workspace. All of these options can help lower your expenses when you are starting out. Whatever your workspace preference, be sure to spend a good amount of time deciding which kind of workspace is best for you and your work needs so you can be the most successful.
If you'd like to learn how to become an affiliate marketer, invest in some of our training courses!